Publications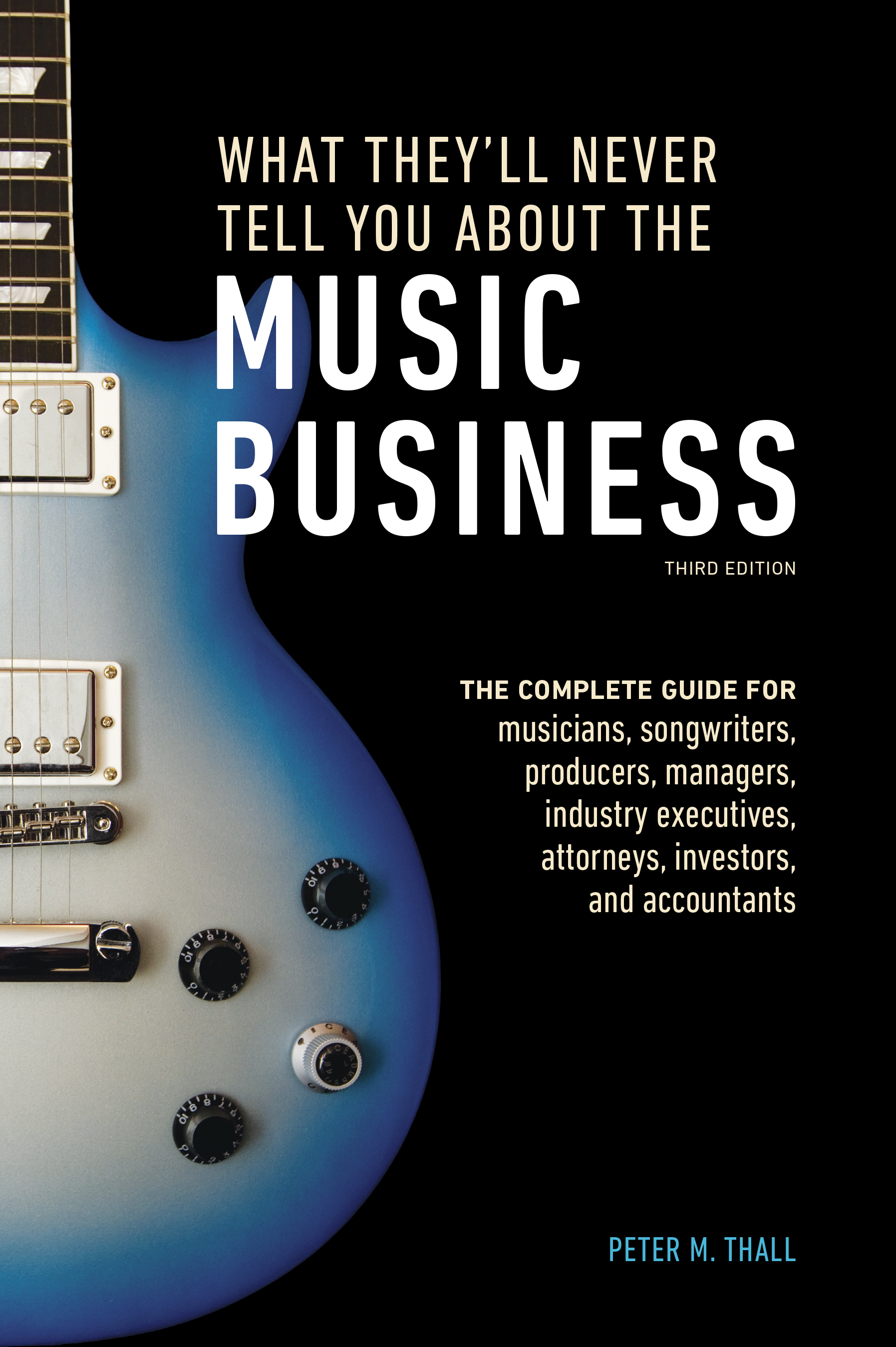 What They'll Never Tell You About the Music Business, Third Edition: The Complete Guide for Musicians, Songwriters, Producers, Managers, Industry Executives, Attorneys, Investors, and Accountants [Watson-Guptill/Billboard Books, 2016] reveals what most savvy music executives already know - - and hope that readers never find out!
It's a digital world, but the fundamental realities of the music business remain the same. In What They'll Never Tell You About the Music Business, Third Edition, Peter M. Thall, a specialist in entertainment and copyright law, takes an in-depth look at all facets of the music industry.
From how artists can best maximize their chances for long-term financial health to what pitfalls to avoid when signing an industry employment contract, Thall discloses the hidden dynamics and unfortunate consequences of what really happens when a deal is prepared and contracts are signed.
Completely revised and expanded to reflect both the economic and technological changes that the music industry has undergone over the past decade, What They'll Never Tell You About the Music Business, Third Edition remains one of the most definitive sources for industry professionals.
Readers will learn how to:
Build careers in the music industry that can be fulfilling and lucrative;
Protect themselves against exploitive music labels and companies;
Avoid damaging consequences using IP basics that corporate counsels teach their employees;
Manage touring and merchandising transactions from clubs to large tours;
Gain practical understanding of copyright law and contracts;
Evaluate copyright and sound recording catalogs in terms of ROI, and more.
And much more:
"The music business is complicated, and this book is very helpful in deciphering its pitfalls, opportunities, and challenges." - Clive Davis, chief creative officer, Sony Music Entertainment Worldwide
"This book gives you the real deal on the way the music business really works, whether you're new to the game or even if you think you're a veteran - - from contracts to touring, good and bad money decisions, and even creating a team no artists should do without." - Sean Paul, Transformative Reggae and DanceHall Recording Artist.
"A clear contender for the one indispensable work on the topic, this book delivers the goods. There is no one involved in the music business who will not learn and benefit from this ambitious work." - The New York State Bar Association
"Intelligent and accessible - rich in references, but easily understandable." - David Geffen, founder of Asylum Records, Geffen Records, and co-founder of Dreamworks Records and Dreamworks SKG; Philanthropist
"An indispensable compass to guide you through the trials, traumas, and occasional triumphs you will encounter in that most unusual "life work" called the music business" - The late Bruce Lundvall, former President and CEO of The Blue Note Label Group of EMI Records
"This book is like a map, showing how to avoid the danger zones in the music business" - Ric Ocasek, Record producer, former lead singer and songwriter, The Cars
"For someone on the way up, this book is a must; for everyone else, it's a bible." - Danny Strick, co-president, SonyATV Music Publishing Inc.
"Attention Classical Musicians: This book is for you! In the rapidly changing world of the performing arts, it is more important than ever to understand fundamental business principles. This book explains it all - - and will save you a lot of time, aggravation, and money." - Charles Letourneau, Former Senior Vice President IMG Artists; Artistic Consultant for Festival Napa Valley and Other Arts Organizations.