Publications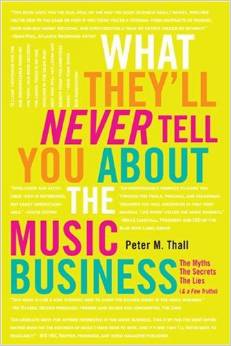 What They'll Never Tell You About the Music Business: The Myths, the Secrets, the Lies (& a Few Truths)
[Billboard Books, 2010] reveals what most savvy music executives already know - - and hope that readers never find out!
This insider guide discloses the hidden dynamics and often unfortunate consequences of what really happens when a deal is prepared, contracts are signed, and promises are made – and alerts musicians, attorneys, songwriters, and anyone else interested in the music business to the potent dangers lurking beneath the surface of this incredibly competitive industry.
Two dozen chapters in this Revised and Updated Edition cover virtually every aspect of the music industry, including Recording Agreements, Record Royalties, Personal Management, Music Publishing, Music Marketing and Promotion, Merchandising, Touring, Copyright Infringement, the complex area dealing with Termination of Copyrights, Music Publishing Catalogue valuation, Royalty Opportunities You Were Never Told About, and Current Issues regarding Copyright rights and Copyright abuses.
Whether you are an aspiring artist or an established superstar, a personal manager or a major-label executive, an entertainment industry attorney or a business manager, investor or just a long-time music lover—you need to know what this book has to tell you.
The information in this invaluable reference is all explained clearly and concisely with no legal jargon.
For anyone involved in the music business, here is your source of inside information.
You'll learn:
About current international initiatives for establishing a worldwide electronic system of copyright registration and management
How many musicians have seized do-it-yourself Internet opportunities to create successful business models - - and how to decide whether that model is right for you
How the Internet has affected every aspect of the music business, from copyright and royalty issues to censorship
How satellite radio, digital jukeboxes, and video games are affecting the music market
The ways in which new coalitions in the industry continue to transform the relationships among artists, record and publishing companies, and the music-loving public
How artists can maximize their chances for long-term financial health
How the royalty pie is sliced - - and who gets the pieces
What snares and pitfalls to avoid when signing an employment contract
Why old-time payola practices may be a thing of the past
Why a lot of boilerplate contract provisions no longer apply in a world of instant downloads
Why reports of the death of the market for classical music have been greatly exaggerated
About the changing face of urban music
And much more:
"This book gives you the real deal on the way the music business really works, whether you're new to the game or even if you think you're a veteran - - from contracts to touring, good and bad money decisions, and even creating a team no artists should do without." - Sean Paul, Atlantic Recording Artist.
"A clear contender for the one indispensable work on the topic, this book delivers the goods. There is no one involved in the music business who will not learn and benefit from this ambitious work." - The New York State Bar Association
"Intelligent and accessible - - rich in references, but easily understandable." - David Geffen
"An indispensable compass to guide you through the trials, traumas, and occasional triumphs you will encounter in that most unusual "life work" called the music business" - Bruce Lundvall, President and CEO of The Blue Note Label Group of EMI Records
"This book is like a map, showing how to avoid the danger zones in the music business" - Ric Ocasek, Record producer, former lead singer and songwriter, The Cars
"An absolute must for anyone interested in the music business. This is by far the most informative book on the business of music I have read to date, and it's one that I'll refer back to regularly." - BIG HEC, rapper, producer and video magazine publisher.